Am I stuck staying on the Tovala Meal meal plan?
Not at all! You can skip a week, pause or cancel your meal plan at any time!
Will I get penalized for pausing or canceling?
No more than just missing out on some great meals!
What's the difference between pausing and skipping?
Pausing = stopping your weekly meal deliveries indefinitely

You can "unpause" your meal plan when you're ready.

Skipping a week = exactly what it sounds like

You won't receive meals for the week you choose to skip and then your meal plan will become active again on its own the week after your "skipped week". 

No action is required on your end to start receiving meals again.

This is not a way to indefinitely stop receiving meals.
What does it mean to cancel?
When you cancel, we remove all of your financial information from our meal plan list and know not to contact you about upcoming meals. 
How do I skip, pause and/or cancel?
To skip a week of meals in the

Tovala app

, open your app, go to Order at the bottom of the screen, and select the calendar icon on the top righthand side, which looks like this:   
When you press the calendar icon, a new screen will pop up. You'll use the slider button, which looks like this, to slide to the left and switch from receiving meals to skipping a week:  
When you slide this button to the left, you're deciding to SKIP meals the week meals are currently being selected for. Next to this button, it will tell you how many days you have left to unskip meals if you change your mind.

If you've done this correctly, your screen should look like this and say "Skipped" at the top.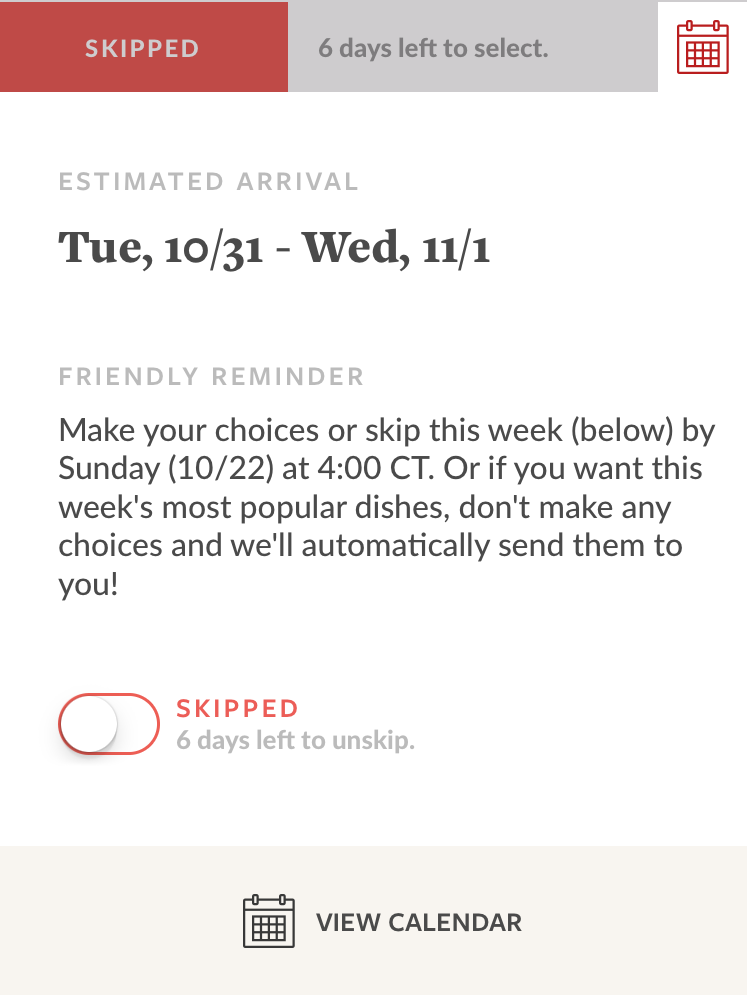 To pause or cancel in the Tovala App, go to Settings > Meal Plan. On our website, just head to the Account section and hit "Pause Meal Plan" or "Cancel Meal Plan".

Please keep in mind that you must press "Skip," "Pause", or "Cancel" during the time period you'd normally select meals for the week you intend to skip. What does this mean exactly? You must skip, pause, or cancel your meals by the Sunday at 4 p.m. Central Time deadline for the week you plan to skip. Allow us to explain a little more below.
When do I have to skip, pause and/or cancel by?
Normally when you order meals for a week, they arrive 9-10 days after the Sunday at 4 p.m. Central Time deadline. In other words, you must skip or pause two weeks prior to the week you'd like to take a break from meals. This means in the same time period you'd usually be picking meals for that week, you should press "Skip", "Pause", or "Cancel Plan" instead of choosing meals.


For example, if you want to skip meals the week of Monday, January 10th, your last day to select "Skip" for the week is Sunday, January 1st before 4 p.m. Central Time.

Sunday, 1/1

: Last day to order your Tovala Meals/skip Tovala Meals for the week of Monday, December 31st

Monday, 1/2 

- 

Friday, 1/6

: We order fresh ingredients and prep them for your meals!

Tuesday 1/10

 & Wednesday 1/11: You won't receive a delivery because you skipped this week!