The Reheat button switches between steaming, baking, and broiling so you can heat up food without drying it out!
What can I heat up with the Reheat button?
Anything you'd normally heat up in your oven or microwave! For example:

Leftovers from the night before
Fully cooked frozen food

For raw/uncooked food, we recommend setting your oven's cooking method, temperature, and time yourself in the Tovala App for more precise cooking or using the recipes we've built into the app to cook raw/uncooked food.
How do I heat up/reheat food in the Tovala?
Transfer your food to oven-safe cookware and place it in the oven.
Press the Reheat button.
Adjust the cook time using the manual buttons on the oven to select the time you'd like.
What materials are safe to heat food on in my Tovala?
Anything that's oven safe, so containers made of glass, ceramic or metal.

If something is microwave safe, it's probably not Tovala safe. Remember, your Tovala is an oven! Anything that would melt or be dangerous to put in your regular oven is not safe to use in your Tovala.

We recommend heating up food with:

The black sheet tray that comes with your Tovala.

Cover it in

aluminum foil

for less mess and better results.

The aluminum trays that Tovala Meal components come in.

Clean them and reuse them! They're great for heating up pasta, stews, and more!
Heating Guidelines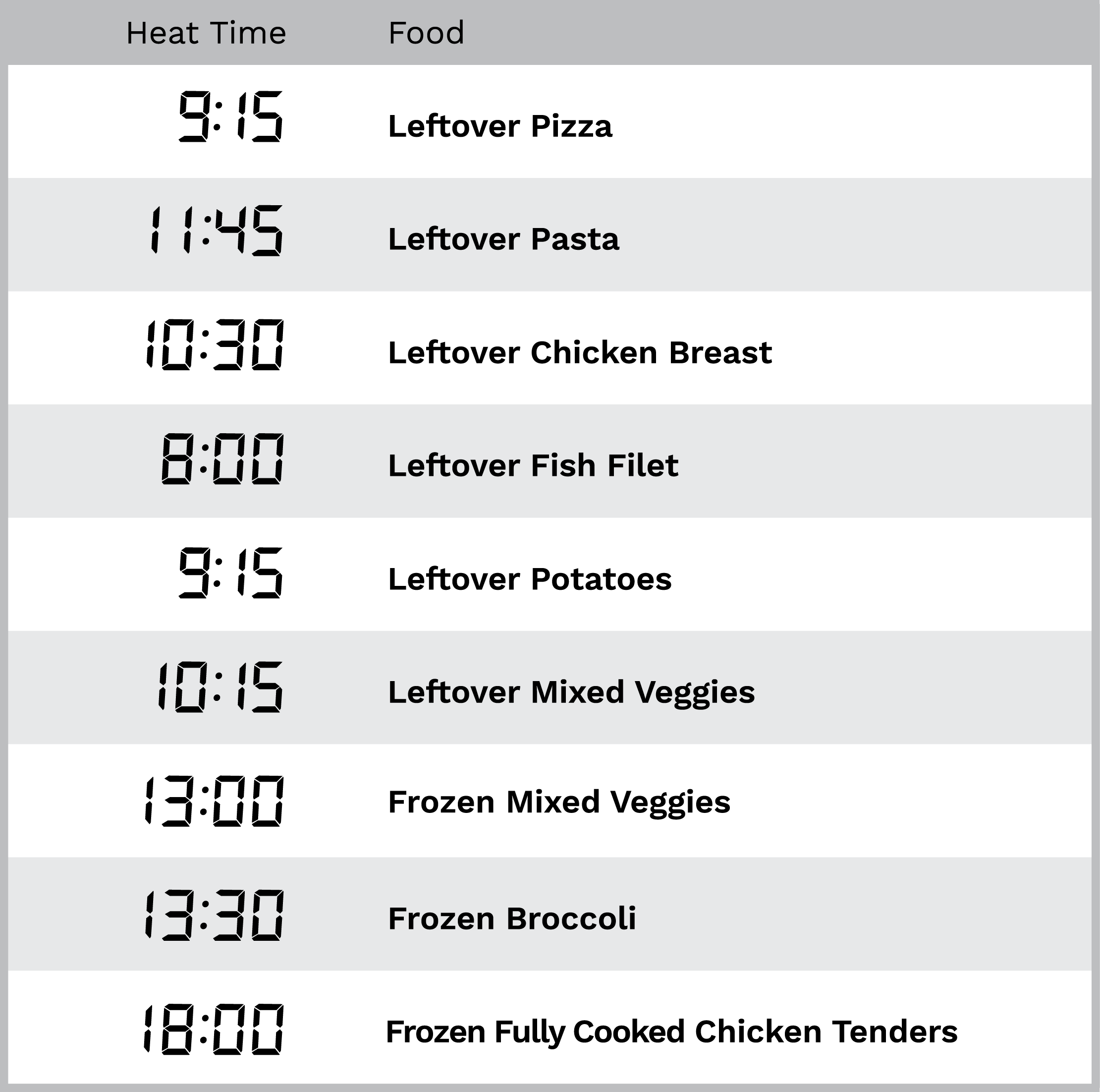 Why reheat my food in the Tovala, rather than the microwave?
For starters, the Tovala is a countertop steam oven, so that means heating up food in your Tovala is very similar to heating up food in your regular oven, except a lot faster and with the addition of steam. Your Tovala combines steaming, convection baking and broiling for impressive (and not soggy!) results.
What is the Reheat button actually doing?
The default cook cycle is 9 minutes and 15 seconds.
This cook cycle is composed of:

Broil at 450°F for 1:30
Steam at 450°F for 1:15
Bake at 400°F for 5:00
Broil at 475°F for 1:30

For cycles shorter than 9:15, it reduces the times for each cooking method proportionally.
For cycles longer than 9:15, only the Bake time is increased.