The Reheat button switches between Bake, Broil, and Steam or Air Fry (depending on your oven model) so you can heat up food without drying it out.
What can I heat up with the Reheat button?
Anything you'd normally heat up in your oven or microwave. (For example: Leftovers from the night before, or fully cooked frozen food.)
For raw/uncooked food, we recommend setting your oven's cooking method, temperature, and time yourself in the Tovala App for more precise cooking or using the recipes we've built into the app to cook raw/uncooked food.
How do I heat up/reheat food in the Tovala Smart Oven?
Transfer your food to oven-safe cookware and place it in the oven. (You can use the Tovala sheet tray included with your oven. Cover it in aluminum foil for easy cleanup.)
Press the Reheat button.
Adjust the cook time using the manual buttons on the oven to select the time you'd like.
Press Start.
See below for some recommended times for reheating.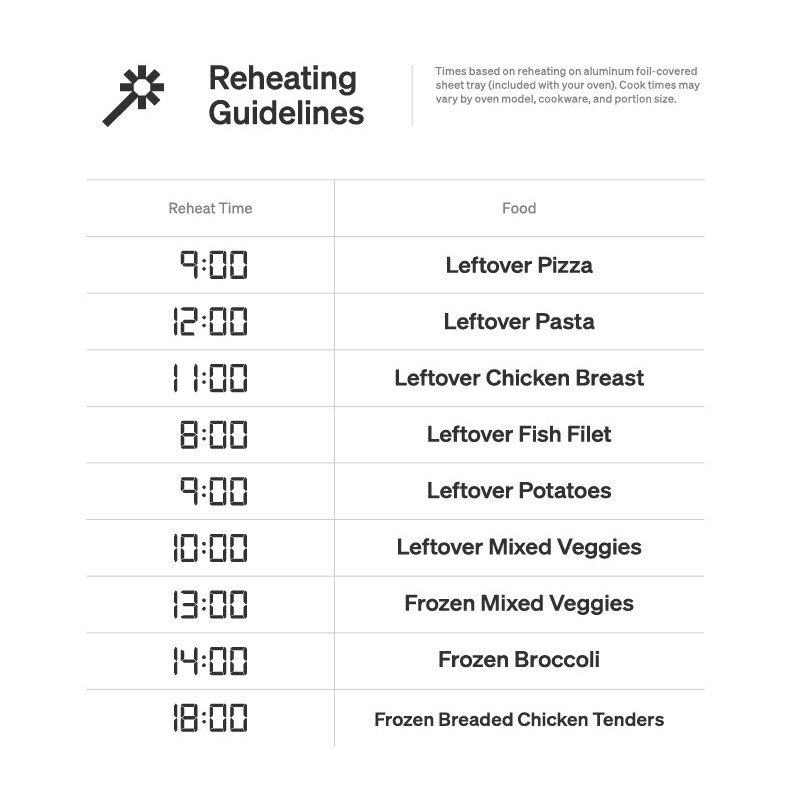 What materials are safe when reheating food in my Tovala Smart Oven?
Anything that's oven safe (containers made of ceramic, metal, or oven safe glass).
If something is microwave safe, it's probably not Tovala safe. Remember, your Tovala is an oven! Anything that would melt or be dangerous to put in your regular oven is not safe to use in your Tovala Smart Oven.
We recommend using:

The black Tovala sheet tray that comes with your oven.

Cover it in aluminum foil for less mess and better results.

The aluminum trays that Tovala Meal components come in.

Clean them and reuse them! They're great for heating up pasta, stews, and more.

The air fry basket that comes with your oven

Great for heating up chicken wings, pizza, and more.